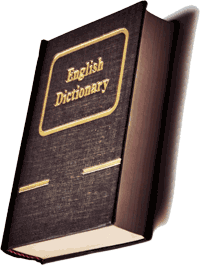 Although it's true there is no substitute for a real-world printed paper dictionary, online dictionaries can be of great value for students of English.

If you need to look up:

Words
Spelling
Meaning
Slang
Technical words
Abbreviations
Different spellings (American, British etc.)

or other unusual words that may not be found in your study dictionary.

We have collected links to the best online dictionaries in the world and hope you visit them all. Remember, not every dictionary is for everyone so when you find one you like, keep using it.
Last updated: May 31, 2013 at 9:34 am



With more than 1,000,000 human-edited definitions, Acronym Finder is the world's largest and most comprehensive dictionary of acronyms, abbreviations, and initialisms. Combined with the Acronym Attic, Acronym Finder contains more than 5 million acronyms and abbreviations.




A directory of common acronyms and abbreviations by topic. Everything from Internet and medical to government and technology acronyms and abbreviations. Find them all here.




Alpha Dictionary allows you to search 1065 online English dictionaries at once. Also offers games, crosswords, word of the day, grammar suggestions and more.




The online searchable American Heritage Dictionary includes definitions, pronunciations, etymologies, and feature notes. Other features include a crossword puzzle solver a dictionary blog and more.




Free online slang dictionary for Australian English and Aussie slang. Thousands of Australian slang words and Aussie phrases defined and rated by users. Includes an Australian word of the day.




Australian National Dictionary

In the tradition of the Oxford English Dictionary, the Australian National Dictionary Centre - a joint initiative of the Australian National University and Oxford University Press - published The Australian National Dictionary: A Dictionary of Australianisms on Historical Principles in 1988 and is available free online.




Koalanet's dictionary of uniquely Australian slang (They exclude British and American slang even though these are commonly used in Australia)




BeeDictionary.com is an Online American English Dictionary with intuitive browsing interface. The dictionary has very useful other features like, full definition, audio, IPA and spelled phonetics, usages, automatic spelling suggestion and personalization. Searched words can be added to one's own word list which can be played/viewed as a flash card.




Cambridge Academic Content Dictionary

With comprehensive coverage of key academic terms as well as a broad range of everyday meanings, this monolingual dictionary is perfect for intermediate and upper-intermediate students of American English.




Cambridge Advanced Learner's British Dictionary

Cambridge Advanced Learner's Dictionary is the best dictionary for general British English on Cambridge Dictionaries Online.




Cambridge Business English Dictionary

An exciting new monolingual dictionary of 35,000 business-related words, phrases and meanings designed to be used by business students and anyone using or encountering English in their work.




Corpus-informed dictionaries for English language learners at all levels. They're ideal for anyone preparing for Cambridge English exams and IELTS. Includes a word of the day, blog, games and more.




Cambridge Essential English Dictionary

With short definitions that are easy to understand, this monolingual dictionary is suitable for beginners and pre-intermediate students. Cambridge Essential English Dictionary has all the words and phrases that you need to learn in British English.




Cambridge Learner's Dictionary

An ideal dictionary for intermediate learners of English.




ChatSlang.com is a resource for chat slang and emoticons. You can look up the meanings of acronyms, abbreviations, slang terms, and emoticon of common use on the web in Internet Messaging and in text chat.




The Carnegie Mellon University Pronouncing Dictionary is a machine-readable pronunciation dictionary for North American English that contains over 125,000 words and their transcriptions. This format is particularly useful for speech recognition and synthesis, as it has mappings from words to their pronunciations in the given phoneme set. The current phoneme set contains 39 phonemes, for which the vowels may carry lexical stress.




The Collins free online dictionary includes a translator to 30 languages, word games, a blog and interesting word and language trivia.




Dave VE7CNV's Truly Canadian Dictionary of Canadian Spelling

A dictionary of Canadian English Spelling. The editor considers Canadian spelling to be that which is used in Hansard (the official transcript of proceedings) by the Parliament of Canada. Maintained since 1997.




Simple quick definitions. DefineItFast also offers a free English spell check, a grammar checker a synonym finder and thesaurus and other tools.




Definitions.net is an online multilingual dictionary that provides instant lookup and translations of word and phrase definitions from many sources, and in more than 20 different languages.




Dictionarist.com is a free online multilingual and talking dictionary service which can provide translation in English, Spanish, Portuguese, German, French, Italian, Russian, Turkish, Dutch, Greek, Chinese, Japanese and Korean.




Dictionary of American Regional English

Coming in 2013! Apply to be a beta tester! The Dictionary of American Regional English (DARE)—representing the full panoply of American regional vocabulary, from Adam's housecat to Zydeco—has long been consulted by a wide range of scholars and lovers of language and regional nuance. The digital version of DARE, to be launched by Harvard University Press in 2013, will transform the dictionary into an interactive, multimedia tool that will greatly benefit both scholarly inquiry and general intellectual curiosity.




Dictionary of English slang and colloquialisms of the UK

English slang and colloquialisms used in the United Kingdom. An online dictionary of the rich colourful language we call slang... all from a British perspective, with new slang added every month.




The Dictionary of Knowledge is an effort by the Dictionary Project, a non-profit organization whose purpose is to help give personal dictionaries to students in the United States and around the world, to create an online dictionary that not only gives people access to words and their definitions, but also shows the beauty of language through the use of sample sentences that convey universal truths.




Every month more than 50 million users across the globe visit Dictionary.com for its free online resources including a daily Crossword, Word Games, a Crossword Solver translations and more.




The free online translator from Dicitonary.com is able to translate words from over fifty languages to English and back. Useful for all students to bookmark for future study.




Dictionary.net is an online dictionary that covers everything. They set out not to just give pages and pages of definitions but to enrich. A modern take on the dictionary. A cross between urban dictionary and the Oxford English that invites users to add and improve through a wiki.




The online dictionary by Pearson Education, publishing as Fact Monster™ includes: Easily Confused Words, Frequently Misspelled Words, a British English Quiz, Crossword Puzzles and more.




English, Spanish, German, French, Italian, Chinese, Portuguese, Dutch, Norwegian, Greek, Arabic, Polish, Turkish, Russian, Medical, Legal, and Financial Dictionaries, Thesaurus, Acronyms and Abbreviations, Idioms, Encyclopedia, a Literature Reference Library, and a Search Engine all in one! Includes word of the day, Hangman game of the day and more.




Free On-line Dictionary of Computing

The Free On-line Dictionary of Computing includes definitions of acronyms, jargon, programming languages, tools, architecture, operating systems, networking, theory, conventions, standards, mathematics, telecoms, electronics, institutions, companies, projects, products, history, in fact any of the vocabulary you might expect to find in a computer dictionary.




FreeThesaurus is a dictionary and synonym/thesaurus finder it includes a visual thesaurus.




Heinle's Newbury House Dictionary of American English

Heinle's Newbury House Dictionary of American English contains over 40,000 entries. With simple, clear definitions, this online tool provides a wealth of sample sentences and idioms.




Howjsay is a free online talking dictionary of English pronunciation. When your entry appears in pink, mouse over to hear it pronounced.




Hutchinson Dictionary of English Usage

Are you unsure of when to use certain words such as whose or who's or affect and effect The Hutchinson Dictionary of English Usage can explain the difference and guide your choice




The free dictionary of Infoplease includes word and writing help such as: Frequently misspelled words, frequently mispronounced words, tips for better spelling, rules for capitalization & punctuation and more.




The Internet Acronym Server has been collecting acronyms from all over the Internet for over 20 years.




The Internet Picture Dictionary is a completely free, online multilingual picture dictionary designed especially for ESL students and beginning English, French, German, Spanish and Italian language learners of all ages.




Little Explorers Picture Dictionary

The Little Explorers picture dictionary makes surfing the Internet very easy. A picture-dictionary format is used to link to hundreds of carefully-chosen child-friendly sites around the world. Since the pictures are links, even pre-readers can surf with a minimum of help and guidance from their favorite adult. Older kids can use Little Explorers as a school reference.




Longman English Dictionary Online

The Longman Dictionary of Contemporary English Online is an online version of the CD-ROM of the Longman Dictionary of Contemporary English, Updated Edition.




LookWAYup combines a multilingual dictionary, thesaurus, translation, and other handy tools. Don't worry about spelling, this dictionary fixes it. The built-in thesaurus gives synonyms, antonyms, and up to 25 types of related terms.




Macmillan English Dictionary was first published in 2002. Games, language resources and audio pronunciations (both British and American) are found with constantly added new words, any of them are appearing in a dictionary for the first time.




The Macquarie Dictionary was first published in print in 1981 and has been online since 2003. Its reputation has gone from strength to strength and it is now nationally and internationally regarded as the standard reference on Australian English.




For more than 150 years, in print and now online, Merriam-Webster has been America's leading and most-trusted provider of language information.




Merriam-Webster Learner's Dictionary

American English dictionary for students of ESL, EFL, and the TOEFL® Test. Includes pronunciation exercises, common word lists, word of the day and more.




The Mnemonic Dictionary helps in learning and remembering a word and its meaning by providing memory aids (called mnemonics) for each word.




NetLingo is a popular dictionary about the Internet language. It is a Web site with thousands of "cyberterms" that people use when communicating online or surfing the Web or conducting e-commerce transactions. It acts as a digital reference guide that helps millions of people around the world learn about the most commonly used words, smileys, acronyms and so on, that keep sprouting up on the Internet. Dubbed "the semantics storehouse of cyberspace" NetLingo tracks the new vocabulary surrounding the technology and community of the World Wide Web




Confused by Internet slang? Can't read a text message? The No Slang Internet Slang Dictionary & Translator translates Internet slang and acronyms.




More than 5,000,000 words in more than 1000 online dictionaries are indexed by the OneLook® search engine. Think of this Web site as a search engine for words and phrases.




Online Dictionary of Language Terminology

The Online Dictionary of Language Terminology contains concise explanations of the words English speakers use to talk about language.




This is a map of modern English. Etymologies are not definitions; they're explanations of what our words meant and how they sounded 600 or 2,000 years ago. Useful for understanding where English words come from and how meaning has (sometimes) changed over time.




Oxford Advanced American Dictionary

The Oxford Advanced American Dictionary is a new dictionary created for learners of American English.




Oxford Advanced Learner's Dictionary

The Oxford Advanced Learner's Dictionary is the world's best-selling advanced learner's dictionary, used by over 35 million learners of English worldwide and now you can access the new edition online!




Oxford Dictionaries Online is a free site offering a comprehensive current English dictionary, grammar guidance, puzzles & games, and a language blog.




The Phrase Thesaurus is like an ordinary thesaurus, but it finds phrases rather than single words. It generates lists of phrases and sayings related to the topic you are interested in.




Use Rhyme Zone to type in words to find rhymes, synonyms, antonyms, homophones and more.




Find synonyms and word suggestions in this free online searchable thesaurus that features 260,000 synonyms and cross-references in an easy-to-use format, succinct word definitions, and an innovative hyperlinked category index.




Find synonyms and antonyms of words at Thesaurus.com. Includes word games, word of the day and much more.




The Visual Thesaurus is an interactive dictionary and thesaurus which creates word maps that blossom with meanings and branch to related words. Its innovative display encourages exploration and learning. You'll understand language in a powerful new way.




Find that word that you've been thinking about all day but just can't seem to remember. Find words based on parts of the word, meaning and scrabbled letters.




A dictionary with over five million definitions written by users. It stand for free speech and having a good time. It is a good source for new slang and unusual English usage. Caution: The Urban Dictionary is not suitable for all audiences. Its content is frequently presented in a coarse and direct manner that some may find offensive. If you do not consider yourself an appropriate user or are offended, please do not visit the Website.




Vidtionary is a video dictionary. It defines and expresses words through images. Suitable for language learners, Vidtionary is also a good tool for teaching visual literacy and graphic design.




A Visual Dictionary to learn by way of images with thematics and clear, precise pages.




The Visual Dictionary is designed to help you find the right word at a glance. Filled with illustrations labeled with accurate terminology, it is an ideal language-learning and vocabulary dictionary. When you know what something looks like but not what it's called, or when you know the word but can't picture the object, The Visual Dictionary has the answer. In a quick look, you can match the word to the image.




Visuwords™ online graphical dictionary — Look up words to find their meanings and associations with other words and concepts. Produce diagrams reminiscent of a neural net. Learn how words associate.




Start typing a word and get instant results as the Vocabulary.com dictionary zeroes in on the word you're looking for and its meaning. Just start typing a word and the dictionary will display the most likely results.




This free online dictionary was derived from the Webster's Revised Unabridged Dictionary Version published 1913.




White Smoke offers a free online dictionary and grammar checker.




Word Explorer Children's Dictionary

Word Explorer Children's Dictionary has many features specially developed for upper elementary- and middle school-aged children.




Find similar or opposite words at WordHippo. WordHippo also offers rhymes, meanings, pronunciations and more.




Since 1999 Word Reference has been providing free online bilingual dictionaries and tools to the world. The site has grown gradually ever since to become one of the most-used online dictionaries, and the top online dictionary for its language pairs of English-Spanish, English-French, English-Italian, Spanish-French, and Spanish-Portuguese. It also includes German, Russian, Polish, Romanian, Czech, Greek, Turkish, Chinese, Japanese, Korean and Arabic




An English dictionary with over 200,000 word and phrase definitions, listed along with their synonyms.




Wordnik shows definitions from multiple sources, so you can see as many different takes on a word's meaning as possible.




The Wordsmyth Comprehensive Dictionary-Thesaurus Suite is at three reading levels: Beginner's, Intermediate, and Advanced




Wordsmyth Illustrated Learner's Dictionary (WILD)

Wordsmyth Illustrated Learner's Dictionary (WILD) is a new and unique visual environment for promoting literacy, developed especially for grades K-3.




WordWeb is an international dictionary and word finder with more than 300 000 possible lookup words and phrases. WordWeb fully covers American, British, Australian, Canadian and Asian English spellings and words.




Find definitions, spellings, and word suggestions in this free online searchable dictionary that features over 200,000 entries, 70,000 audio word pronunciations, and 900 full-page color illustrations.




YourDictionary is an easy t to use online dictionary and thesaurus that features simple, straightforward definitions.




ZebraWords.com is an online dictionary, thesaurus, translation tool and map tool.
Last updated: May 31, 2013 at 9:34 am